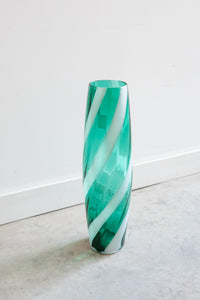 Murano ovoid vases are a type of art glass made on the Venetian island of Murano, Italy. These vases are characterized by their ovoid shape, which is a rounded and slightly elongated form.
Murano glassmakers are known for their skill in creating intricate designs and patterns in glass, and ovoid vases are often adorned with beautiful and intricate decorations such as murrine (colored glass rods), filigree (delicate threads of glass), and other decorative elements.
Murano ovoid vases can be found in a variety of colors and styles, ranging from simple and elegant to highly ornate and decorative. They are highly valued by collectors and are considered to be some of the finest examples of Italian art glass.
H49cm