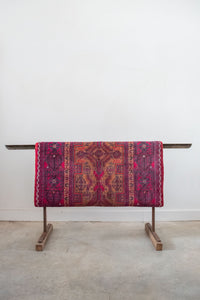 A Persian Belluchi rug is a type of handwoven rug made by the Belluchi tribes in the region of Baluchistan, which covers parts of Iran, Afghanistan, and Pakistan. These rugs are known for their unique designs and colors, as well as their durability and fine craftsmanship.
Belluchi rugs often feature geometric patterns and bold colors, such as red, navy blue, and ivory. They are made using high-quality wool and cotton, and are typically small to medium in size.
Due to their tribal origins and the fact that they are made by hand, each Persian Belluchi rug is unique and one-of-a-kind. They are prized by collectors and aficionados of fine rugs for their beauty, quality, and historical significance.
East Persia bordering with West Afghanistan.
L197cm X  W100cm